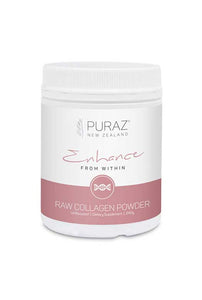 Puraz Raw Collagen Powder
Regular price
Sale price
$57.00
Tax included.
Shipping
calculated at checkout.
---
Our body's collagen production naturally decreases as we age. RAW Collagen Powder contains nothing but pure collagen peptides – perfect for significantly boosting your body's collagen levels to help slow down the aging process.
BENEFITS
RAW Collagen Powder is completely pure and natural. With no artificial fillers, colours, additives, preservatives or encapsulating aids, it's one of the most trusted brands in the market. Our products are renowned for exceptional quality and pureness.
At Puraz, we source the most superior form of pure collagen from bovine. The collagen proteins in bovine have the closest resemblance to human collagen, meaning it's easily absorbed into the body (bio-availability). Bovine collagen has the added bonus of being hypoallergenic, with no allergens commonly found in the alternative form of collagen, marine collagen.
During the special manufacturing process of our pure collagen, the collagen protein is made smaller by enzymes that 'predigest' the collagen into free amino acids and peptide fragments (smaller chains of amino acids that the body uses as building blocks). These small and low molecular weight pre-digested amino acids and peptides are rapidly absorbed through the walls of the intestines into the blood stream, providing the body with the material it needs to build structures and regulate the functions of cells.
HOW TO USE
RAW Collagen Powder is easy to take in a variety of ways. Being neutral in flavour means you can add one level scoop of your RAW Collagen Powder each day to almost anything!
We recommend trying out RAW Collagen Powder in your morning coffee, daily smoothies or even baking.
DIRECTIONS
Add one level scoop (8grams) per day to smoothies, coffee, baked goods etc. Best mixed with a shaker or blender.
CAUTIONS
People with known allergies to protein should not take this product without medical advice. This product should not be taken during pregnancy or lactation. Always read the label and use only as directed. Store below 25°C in a dry place.
240 grams powder